This was supposed to be a restoration of a 19th-century fresco called "Ecce Homo," or "behold the man," depicting Jesus: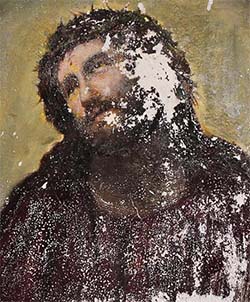 Instead, Cecilia painted a bird-like Jesus wearing a Russian ushanka hat with chin strap, beak-nose, beady Gibbon-like eyes and a smeared whore-mouth. As if being nailed to a cross wasn't bad enough, now Jesus apparently has to contend with a fat neck and the wrath of an 80-year-old Spaniard with too much time on her hands and an inflated sense of her artistic ability.
And yes, this is real.